Hertswood School Competition Entry
Hertswood School Competition Entry
Hertswood School Competition Entry
Hertswood School Competition Entry
Hertswood School Competition Entry
HTML Image Gallery Script by WOWSlider.com v2.8m
Click here for more info on the competition and a closer look at the artwork.

28th June 2014 Families Day 2014 Meadow Park, Borehamwood.
Read what happened last year.




26th

–

29th June 2014

Visit to Borehamwood of Rammersweier Musikverein from Offenburg: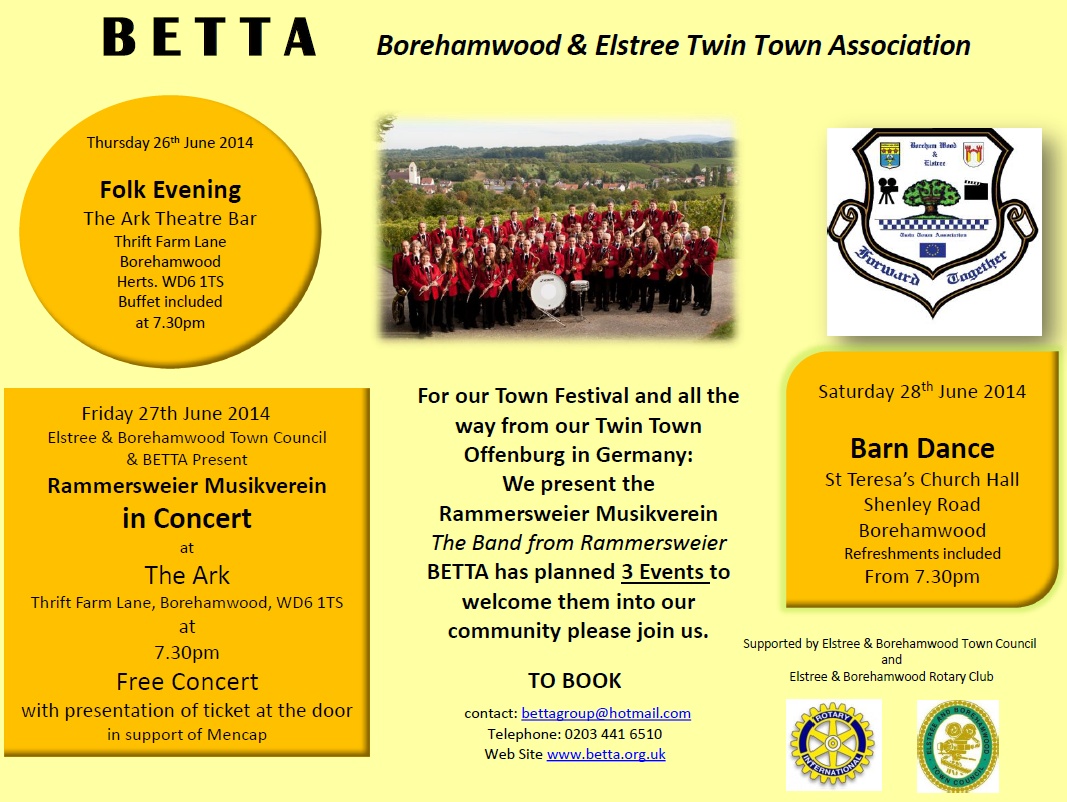 Come and join in the fun
Entertainment for the whole family!
Free drinks provided!
Here are the dates for BETTA meetings for 2014:
8th January
12th February
12th March (upstairs)
9th April
14th May (AGM)
11th June
9th July
13th August
10th September
8th October
12th November
10th December

Come and tell the BETTA committee what you really think of the job they are doing!
Don't worry if you are not a member - all are welcome.



Come to the party!


Clive Butchins visits Fontaney-aux-roses

Monday 11th November

Bonjour Mesdames,

This is a link to the video of my speech in Fontenay last Monday: https://www.facebook.com/photo.php?v=642290595821664

I was surprised, having made an effort to get the pronunciation reasonably decent, how much of an English accent I had. Definitely room for improvement!

Thank you for all our help with it: it would have been a disaster without.

Salutations,

Clive
Offenburg visitors from Volkshochschule
College visit twin town in Borehamwood
10:47am Tuesday 2nd April 2013 in News (Borehamwood and Elstree Times)
By Anna Slater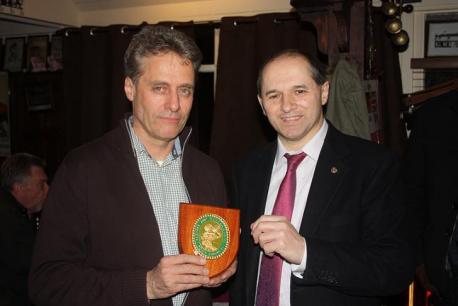 Mayor Charles Kelly presents Ralph Brunner with a coat of arms
German visitors had the 'time of their lives' when they took a trip to Borehamwood to learn about the area's history.
Borehamwood and Elstree Twin Town Association hosted guests from the village's twin town of Offenburg, near the Black Forest, last week.
During their stay, the 20 people from the Volkshochschule College learnt about the borough's rich film history with a series of talks.
Film historian Bob Redman gave a presentation on films shot at the iconic Elstree studios, which was described as "interesting and exciting".
The visitors were then led to the iconic Elstree Studios, where they met managing director Roger Morris who spoke to them about his plans for the future.
Andrew Grady, vice chair of the association, said: "I think they had a super time learning about the area's unique history.
"They all enjoyed finding out more about their twin town. It was an amazing week."
As part of the trip, the visitors given a presentation by Borehamwood Museum volunteers on the changes the area has seen in the last 100 years.
Elstree & Borehamwood Mayor Charles Kelly also presented Offenburg resident Ralph Brunner, who helped organised the trip, with a coat of arms as a souvenir.
Mr Grady added: "A small history tour from Studio Way to Elstree & Borehamwood station went down well.
"They also had a nice pub lunch in St Albans and went to a café in Radlett for a social evening which was great.
"All in all, I think they had the time of their lives."